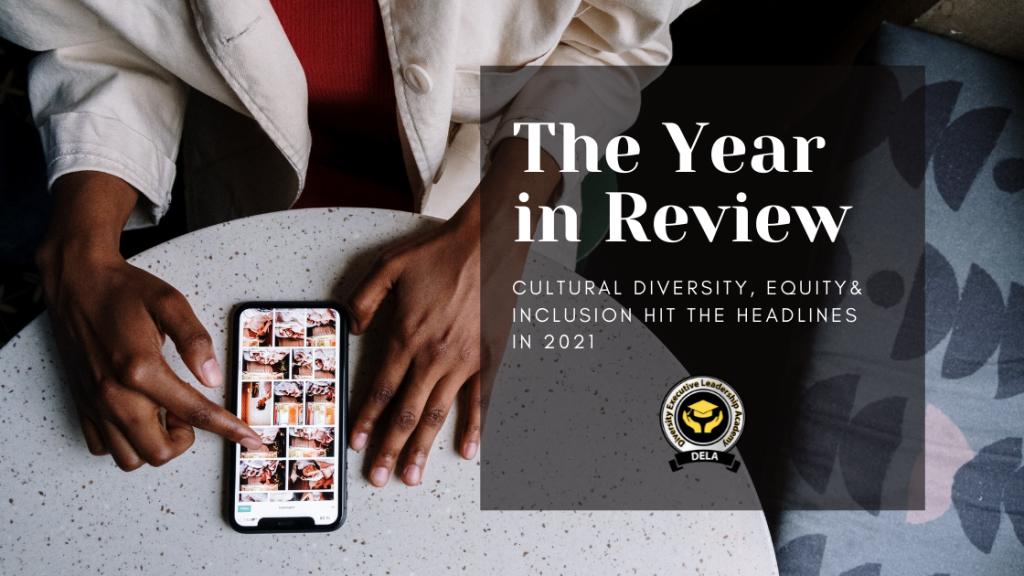 Introduction
The pandemic unquestionably took center stage in 2021 for its impact on society globally. A considerable number of events are worth mentioning. We understand as diversity, equity, inclusion, and accessibility professionals ("DEIA professionals") the importance of keeping up in our profession requires in part paying attention to the news. We share in this article some of the most noteworthy for their effects on the need for incorporating cultural diversity into the fabric of American society.
Given that the country will continue to wrestle with cultural diversity, inclusion, and equity for at least the next few decades, some of the events listed will likely suggest we are moving backward instead of forward. Keep in mind that a democratic society is messy. The same is true for its complement – racial equity and inclusion.
1.  January 6, 2021, United States Capital Building Attack.
There is not much more to say about this incident as the title speaks for itself.
2. Attacks on Teaching Cultural Diversity in the Classroom.
The backlash against teaching children about cultural diversity and equity in school will not likely come to a head until the mid-term national elections, as the two appear intimately connected. A general sense that the government is overreaching in its efforts to promote equality at the cost of unfairly redistributing access in favor of "the underdog" plays out in opposition against textbooks that have long been in the classroom, such as Alice Walker's The Color Purple. Most of the backlash is grounded in the belief that they are based on critical race theory – a hot button term assumed to be anti-white.
3. Presidential Order on Advancing Racial Equity and Support for Underserved Communities.
The increase in racial equity initiatives and plans that have picked up momentum in metropolitan area governments has sparked a national effort by the United States Government. President Biden's executive order emphasizes federal government departments and divisions to create and implement initiatives that will "put teeth" into equal opportunity and cultural diversity programs across the federal government.
4. Derrick Chauvin is Convicted for George Floyd's Death.
The incident that sparked greater alliance with and appreciation for the Black Lives Matter Movement came at the price that George Floyd had to pay. The role police play in wreaking havoc on black communities instead of protecting them took center stage as the video of Derrick Chauvin with hands in his pockets, and unemotional as George Floyd begged to be allowed breath under Chauvin's knee. The sad reality is that few would have been surprised if he was not convicted due to the broad influence of "under the color of the law" practice.
5. City of Manhattan Beach (California) Returned Parcels of Lands Now Worth 70-Million Dollars to Black Descendants.
In an example of the power of racial reconciliation, the Manhattan Beach city council voted to give back two parcels of prime beach property that was confiscated from black citizen property owners in the early 1900s after laws were passed to force them off their land. Read more in the article.
6. The Crimes Against Asian Americans Dramatically Increased.
The hate crime incidents against Asian Americans, African Americans, and Latinx/Hispanic Americas have risen over the past few years. Asian American youth between 18 and 36 have had to endure more hate crimes than the other two groups, at least by a few percentage points. Asian hate crime is most likely to occur at school, especially in higher education. They are also more likely to be attacked by nonwhites. There does not appear to be a single nonwhite group that accounts for these harmful acts.
7. The Karen Meme Becomes a Household Name.
"Karen" Incidents Reports Became Popular News Coverage – Unfortunately. White women caught on camera misbehaving towards nonwhite people received even more coverage in 2021 than in the previous years. A prominent example included calling the police on innocent victims of color because the Karen assumed that the person fits "the profile." In most instances, they embarrassingly turn out to be the culprit (such as misplacing their presumed stolen mobile phone). The meme has become increasingly associated with a sense of white privilege and entitlement than racism. Often both race and white privilege can be related to the behavior. A few news articles described "Karen's" calling the police while boldly telling the victim that they would believe her side of the story rather than theirs.
8. Approval of Interracial Increases to a New High of 94% in the United States.
Thought you were seeing more white men holding hands with black women than ever before? You were correct and hopefully appreciate seeing them. Society can undoubtedly benefit from more Asian and black couples as well.
9. Black American Ex-Patriots Reflecting on How Race Plays Out Differently in Their New Home Country.
Living in a country without a history of black slavery can be an eye-opener and consciousness-raising experience for black Americans accustomed to the North American skin color phobic culture. The black ex-patriot experience can provide insights into what is needed for better emotional and physical health.
10. Black Americans and women made significant strides on corporate boards. Research indicates that merely having one woman on a corporate board increases competitiveness and the bottom line. It appears that corporate executives and boards are listening and taking it seriously.
Conclusion
It is very clear that on the backdrop of some very disturbing events, some incremental positive societal outcomes have arisen, but there is much work to continue to be done. The reality remains that many in our very diverse communities there were and continue to be people who are disproportionally, negatively, and way too often tragically impacted every day.  It is incumbent on us all, but in particular on us as DEI professionals to strive to positively impact and progress inclusion in our communities and organizations to influence others to understand and embrace the benefits of incorporating cultural diversity and inclusion.
If you like this article, you may want to check out the certified diversity trainer (CDT) training program. Visit https://diversityexecutiveacademy.com to learn more
| | | |
| --- | --- | --- |
| Pamela Baker CDP | Diversity Executive Leadership Instructor | |
| Jacqueline Burnett-Brown Ph.D. CDP CDT | Diversity Executive Leadership Instructor | |
| Kathy Simonis CDP | Diversity Executive Leadership Lead Instructor | |
| Billy Vaughn, PhD | Diversity Executive Leadership Director | |